Optimize Cloud Costs With FinOps
FinOps solve the problems of managing cloud costs using an iterative business culture. Liquid Reply offers experience and best practices in implementation.
What is FinOps?
IT-engineers can provision cloud resources at the touch of a button, without the need for a traditional procurement process. This results in loss of control, lack of transparency and the inability to plan cloud costs. FinOps (Financial Operations) solves these cost management problems.
FinOps describes a range of best practices which go hand-in-hand with the transition into the cloud. In doing this, company culture is iteratively brought in line with the new circumstances.
The primary aim of FinOps is not reducing costs, instead the focus is on the best possible use of the cloud. The aim is to optimally use the variable cloud cost model for the company to promote innovations and business development faster.
FINOPS CONSULTING
Liquid Reply, with its FinOps expert team, helps with the introduction and implementation on site. Employees are consulted to further advance the FinOps culture and best practices.
FINOPS TRAINING
In an individual training session, Liquid Reply gives an introduction to the topic and disseminates practical expertise. At the same time, employees are primed for the FinOps practitioner certification.
FINOPS ASSESSMENT
The Liquid Reply FinOps expert team analyses the current status of the cloud usage in conjunction with the company. The result is a ready-to-use report with specific recommended courses of action.
The FinOps Lifecycle
In an expert FinOps Foundation discussion, the life cycle model of INFORM – OPTIMISE – OPERATE was developed into a guideline. Since FinOps pursue the goal of continuous improvement, the phases are repeated cyclically.
The INFORM phase: This is where transparency, visibility and assignment are brought together into a detailed overview of the cloud landscape.
The OPTIMISE phase: This phase discusses which options and goals are desired and achievable. This follows the principle of "Crawl, walk, run".
The OPERATE phase: Agreed measures and automations are implemented.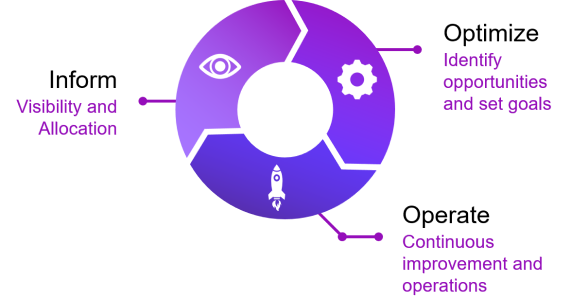 Do you have any further questions?
Make a personal appointment with the Liquid Reply Experts now.