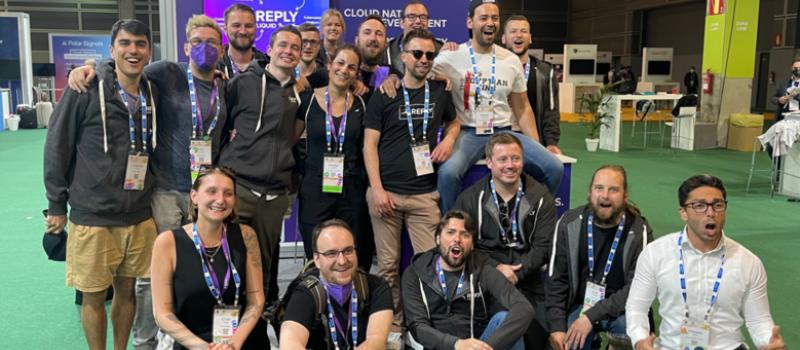 One team - Germany-wide
We are at home all over Germany from the Frauenkirche to St. Pauli, from the Sauerland to the Spree. Our locations in Munich, Frankfurt, Hanover, Berlin and Hamburg allow us to be close to our customers, and for anyone who likes to work remotely, also offer the opportunity to meet with colleagues.
Mai 2022
The entire Team Liquid is at KubeCon + CloudNativeCon Europe, giving a total of 3 presentations
March 2022
🎉 We crack the 25 employees mark
November 2021
Liquid Reply is among the top 100 contributors to Kubernetes
September 2021
After our start in Munich & Hannover, Berlin, Frankfurt we open our 5th office in Hamburg
August 2021
Membership in the FinOps Foundation
May 2021
Certification as Kubernetes Training Partner (KTP)
March 2021
Certification as FinOps Service Provider
January 2021
Cloud Native Computing Foundation & Linux Foundation membership and re-certification as a Kubernetes Certified Service Provider (KCSP)
October 2020
Kick-off of Liquid Brand based on Kubernetes & Cloud Native expert team.
Experts
We are the experts in cloud agnostic implementation of Kubernetes platforms, developing cloud native applications and creating transparency and optimizing cloud costs through FinOps.
The Reply Network
Liquid Reply is part of the Reply consulting network
With its network of highly specialized companies, Reply effectively supports European leaders in Telecommunications and Media, Industry and Services, Banking and Insurance, and Public Administration in business models based on new paradigms such as Artificial Intelligence, Big Data, Cloud Computing, Digital Media and the Internet of Things. Among the services offered by Reply are: Consulting, Systems Integration and Digital Services.